Gateway Commercial
High visibility. Convenient access. Nearby residential areas.
All designed to make doing business a pleasure.
With everything we've done to set you up for success, you'll want to make our plans for Gateway Retail Plaza part of your business plan. The new $23 million Gateway Bridge over US 80 connects 660 acres of prime property north of the highway with 1,400 acres to its south. Within a 5-mile radius, Gateway Retail Plaza will serve a population of 38,555, expected to grow 13.5% by 2020. Average household income is an impressive $93,548. And within our trade area, the development will serve a population of 170,771, expected to grow 10.6% by 2020.
Plans for Phase One call for approximately 200,000 sq. ft. with highway pad sites still available. Contact us today at 214.880.7100 to learn how Gateway Retail Plaza can put your business on the map.
Retail & Entertainment
With thousands of new homes being built, Forney's growth is spurring new retail development along the US 80 corridor. Gateway Retail Plaza will offer major retailers, boutique shops and restaurants which will serve both area residents and surrounding communities via the new Gateway Bridge.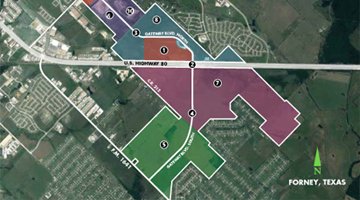 Light Industrial
With over 800 acres of commercial property, Gateway will include land designated for light industrial applications due to its prime access to major transportation routes to DFW and beyond. Forney is an ideal location for businesses involved in wholesale, distribution and warehousing operations. For more information contact us.
Office Space
Gateway is a prime location for companies of all sizes in the booming Forney market. Office sites are available for companies looking for great accessibility in a city with a growing and well-educated workforce. Gateway is Forney's premier new business address. For more information contact us.
Welcome to Gateway Living!
Sign up for development updates
500
new homes built in Forney area last year